Create a truly unique piece with meaning
At MATILDE we give our clients the opportunity to create beautiful custom jewellery with meaning.

From design consultation through to production, we maintain open lines of communication, providing updates and images to keep you informed and involved in every step of creating your unique, custom-made piece.

Discover our process below and start your bespoke jewellery creation.
How it works
STEP ONE - Inspiration and Consultation
Begin by sharing your ideas, inspirations, and preferences with us. This could include sketches, images, or any specific details you have in mind. We'll also discuss materials, stones, and design elements during this initial consultation and any requirements you may have. Get in touch via the enquiry form on the website or email bespoke@matildejewellery.com.
STEP TWO - DESIGN & SKETCHING
Our skilled design team will transform your vision into initial sketches and concepts. These will be shared with you for feedback and adjustments. We'll refine the design until it perfectly aligns with your vision.
STEP 3 - CAD RENDERING & STONE SELECTION
Once the design is approved, we'll create a computer-aided design (CAD) rendering, providing a detailed 3D visualization of your piece. We'll also assist you in selecting the perfect stones, ensuring they complement your design.
STEP 4 - PRODUCTION & CRAFTING
With the design and stone choices finalized, our expert artisans will begin crafting your bespoke piece. We employ the highest standards of craftsmanship, using 100% recycled metals and lab-grown diamonds and gemstones.
STEP 5 - QUALITY ASSURANCE & DELIVERY
Every piece undergoes thorough quality checks to ensure it meets our exacting standards. Once approved, your bespoke jewelry will be beautifully packaged and promptly delivered to you, ready to be treasured for a lifetime.
Our bespoke pieces
Our journey with Matilde Jewellery began with the bespoke design of our engagement ring. We were so happy with the result that we continued working with Matilde to design and create our wedding bands too. They provided multiple designs based on our preferences, whilst staying within our budget.

Throughout the process, we always felt reassured. They were transparent and informative about the designs, the process, and the materials used for the rings.

The aftercare has been nothing short of exceptional. We had to resize our rings on multiple occasions and each time Matilde provided a quick and secure service. The journey we embarked on with Matilde has allowed us to create the rings we had always envisaged for such a special time in our lives, and for that we will be forever thankful.

- Chris & Raj
Our bespoke pieces
3 custom sized Leonis Bangles
Thank you once again for keeping me abreast of the process and for being so communicative and easy to reach. Excellent customer service. I look forward to buying something else from you very soon. 
- Lucy V
Enquiry Form
If you're interested in creating a bespoke piece fill out the enquiry form below and we will be in touch!
The timeline for crafting a bespoke ring / piece can vary based on its complexity. We usually set aside approximately 10 weeks from the initial concept to the final creation. However, if you have a specific deadline in mind, please let us know, and we'll make every effort to accommodate your timeline, prioritizing your special piece accordingly.
The price of a bespoke ring / piece can vary depending on its complexity and the materials used. At MATILDE, we take pride in exclusively using lab-grown diamonds and gemstones and recycled precious metals. The cost is influenced by factors such as carat size, your choice of metal, and the unique design you envision for your one-of-a-kind piece.
To begin creating a bespoke ring or piece with Matilde, you can either fill out the form below or email us at bespoke@matildejewellery.com. A member of our team will be delighted to guide you through the process. If you have a rough idea in mind, sharing it with us is helpful, but if you're unsure, that's perfectly fine—we'll work with you to bring your vision to life!
Based in West London, we offer in-person consultations in our Head Office and are happy to arrange meetings at various London spots that best suit you. For those living outside London, we offer convenient Zoom consultations. Throughout the process, we maintain constant communication via email to ensure your bespoke experience is seamless.
Absolutely! We happily accept bespoke orders for customers both inside and outside the UK. We offer Zoom consultations for added convenience and ensure constant communication with customers throughout the entire process.
Once the final design and stones are approved, we'll provide you with a rough provisional delivery date. To proceed, we kindly request 100% payment before we commence production, which helps cover the cost of materials and production. Please keep in mind, for more intricate designs requiring additional work from our design team to create the CAD (Computer Aided Design), a £250 + VAT Design & Development fee may apply before moving forward. This deposit is non-refundable if you choose not to proceed after the initial CAD phase, but if you continue with your bespoke journey with MATILDE, the amount is redeemable towards your order.
If you're joining us for an in-person consultation, we'll take measurements during your visit and provide opportunities to assess the ring's fit at various stages of the process. For those creating bespoke pieces from outside the UK with virtual consultations, we're happy to send you one of our ring measuring kits. Additionally, we'll offer helpful tips on how to accurately measure your own or your partner's finger size.
For the initial three months after delivery, we're pleased to offer complimentary resizing services for bespoke engagement or wedding rings. Should you require any resizing after this period, there will be a charge of £50 per ring.
We exclusively source our stones and diamonds from trusted and certified suppliers of lab-grown diamonds and gemstones. Additionally, for lab-grown diamonds above a specific carat size, you'll receive an IGI (International Gemological Institute) Laboratory-Grown Report, complete with your unique IGI Report Number
At MATILDE, we exclusively use lab-grown diamonds and gemstones to steer clear of the mining industry. While we primarily work with lab-grown stones, we understand the significance of heirlooms. If you have a diamond or gemstone you'd like to incorporate, please reach out to us at bespoke@matildejewellery.com. We'll be happy to discuss this further and have our trusted professional gemologist evaluate the stone before beginning your bespoke journey.
We take pride in using 100% recycled gold and silver for our creations. This sustainable approach minimizes our environmental impact by repurposing existing jewelry, industrial metals, and electronic components. The refined result is on par in quality with newly mined gold, aligning with our commitment to responsible sourcing.
Our dedicated Matilde Bespoke Team will keep you well-informed every step of the way. You can expect updates on mood boards, inspirations, sketches, CAD renders, stone sourcing and production progress. We'll also provide images and videos for your review. And, of course, we're here to offer post-delivery support should any issues arise.
We offer the convenience of payment through bank transfer, and we can provide a secure payment link for your ease. Additionally, we accept payments via PayPal. Whichever method suits you best, we're here to make the process seamless.
Due to the personalized nature of bespoke pieces, we regretfully cannot accept returns on custom-made jewelry. We're committed to ensuring your piece is crafted to perfection just for you.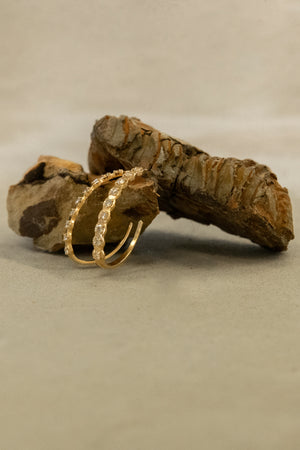 Sign up for exclusive content
Sign up to get exclusive content from Matilde, plus 10% OFF your first order.